About This Project
Arcflash Labs is the world's leading (and only) developer of electromagnetic guns for sale to the public.  We have been working for the past ten years to bring this technology to wider adoption. Presently, we are working on two new projects to develop the world's first high power handheld electromagnetic weapon, which we aim to commercialize by late 2020.  However, we are a small (3 person) operation, and the research we are doing is expensive.  We are launching a crowdfunding campaign to raise funds to help accelerate our two programs:
The first project is the XPR-4 Railgun, which uses advanced field-augmented rails to greatly increase output energy compared to our previous railgun models.  The XPR-4 is also the first portable railgun to eliminate the gas injector, reducing weight by 25%. We just finished assembly of the XPR-4 prototype but we have a long road of testing ahead of us before the XPR-4 is ready for the public.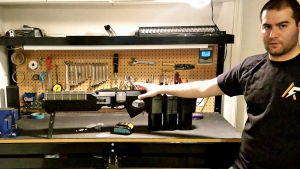 The second project is the GR-1 "Anvil" Gauss Rifle, a high voltage, high energy reluctance coilgun.  The GR-1 can accelerate 1 oz steel slugs to over 240 fps+. Our GR-1 is already the most powerful handheld coilgun ever built and will be the first weapons-grade gauss rifle ever offered for sale.